You are here>> Home >> Adrenal Fatigue Treatment >> Supplements >>
Holy Basil
Holy Basil for Adrenal Fatigue
Holy Basil reduces cortisol, improves immune system and lowers cholesterol
But use caution if your adrenal fatigue is advanced
Holy Basil can be a helpful adrenal fatigue supplement. It has anti-stress properties, but does not appear to have the negative stimulating affects of Rhodiola or Ginseng.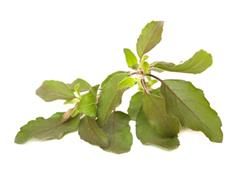 This makes it a fairly safe herb for adrenal fatigue treatment.
In addition to lowering cortisol during exposure to stress, Holy Basil also lowers total cholesterol and boosts your immune system.
If you are struggling with insomnia or anxiety (see Anxiety & Adrenal Fatigue), you may want to try Holy Basil. Note that it also goes under the name Tulsi.
However, if your adrenal fatigue is advanced, you may have trouble with Holy Basil. So start slow.
Anti-Stress & Cortisol Reduction
Except for very late stage adrenal fatigue, most people suffer from high cortisol, at least for certain periods of the day.
It is very common for saliva tests to show high cortisol in the evening through to the morning. This is why insomnia is so common.
Holy Basil has been shown to reduce cortisol. In one study, rats were exposed to stress in the form of loud noise. Untreated rats experienced in increase in cortisol levels. However, rats treated with Holy Basil did not experience an increase in cortisol levels.
Ocimum sanctum (Holy Basil) prevented the changes in plasma level of corticosterone induced by exposure to both acute and chronic noise stress , indicating the antistressor property of the plant1
Other studies have also shown that Holy Basil has powerful anti-stress properties2, 3, 4, 5, 9.
Another study found that Holy Basil can reduce stress induced anxiety and depression6. Another couple of reasons why it can be such a helpful adrenal fatigue supplement.
Article continues below ad
Holy Basil is NOT a stimulant
Unlike other adrenal fatigue herbs, such as Rhodiola or Ginseng, Holy Basil is not a stimulant.
Some herbs used as anti-stress herbs result in an increase in energy, and an increase in libido. This indicates they also act as a stimulant.
Holy Basil has been found to decrease sexual behavior7. It is a calming herb, and not a stimulant. This makes it a helpful adrenal fatigue supplement since it helps to calm your nervous system.
Although you probably want to have more energy, using stimulating herbs is like beating a tired horse. In the long run, it is not a good solution. You need to calm your nervous system so your adrenal glands can rest.
Holy Basil: Advanced Adrenal Fatigue
Holy Basil might be too good at calming the HPA Axis
Almost every adrenal fatigue supplement has some cautions that must be considered, and Holy Basil is no different.
With advanced adrenal fatigue the HPA is already suppressed.14
Burnout is associated primarily with a hypo-function of the HPA-axis, which is a neuro-endocrine characteristic of exhaustion14
The above quote is from an article about Burnout. See the article Burnout Syndrome vs Adrenal Fatigue, which explains the similarities.
So taking a supplement that further suppresses HPA function may make you feel worse.
Holy Basil Reduces Blood Sugar
Holy Basil has been found to lower blood sugar levels9,10.
Hypoglycemia and Adrenal Fatigue
are linking because adrenal hormones required to control blood sugar.
People with more advanced adrenal fatigue often have fairly severe hypoglycemia.
Simply observe your hypoglycemia symptoms while using this herb. If you find that they are getting worse, you may need to reduce the dosage.
If you already have fairly ad hypoglycemia symptoms, start slowly with this herb.
Sensitivity with Severe Adrenal Fatigue
If your adrenal fatigue is bad enough, you may be sensitive to almost any adrenal fatigue supplement, even if it is supposed to be a calming supplement.
Many people become intolerant of almost any supplement. So if you do get increased anxiety from Holy Basil, it is probably due to your high level of intolerance.
Below is an example of one person posting their experience on the Curezone.com forum:
Holy Basil might help you. If you find yourself being too sensitive to most other supplements, (like , vitamin C, rhodiola, serephos/phosphorylated serine, etc), or if you have severe adrenal fatigue, it could make anxiety worse. I tried it, and it made my anxiety worse, but hopefully your tolerance level is higher. 13
Chromium Toxicity & Holy Basil
Another potential issue is chromium toxicity. The Holy Basil plant seems to be able to absorb chromium at a very high rate without affecting the plant11.
Although it is normal for your body to contain some amounts of chromium, at high levels, it becomes a toxin. High chromium can damage the kidneys and liver12.
With adrenal fatigue, the last thing you want to do is load yourself up with more metals.
It is important to make sure that your Holy Basil was grown in an area that is not contaminated. You could possibly check with the manufacturer and ask if it comes from a safe source.
A 2014 report found that 20% of Chinese soil is contaminated with heavy metals15. So you should avoid getting Holy Basil, or any other herb from China.
The same problem exists elsewhere, but China is far behind in environmental regulations.
You could also grow your own Holy Basil, either in a garden, or in a pot.
Summary
Holy Basil is a very useful adrenal fatigue supplement. It can lower your cortisol and anxiety. I used it myself for a couple of years.
It tends to be a better choice if your adrenal fatigue is not advanced. Overall, it is a one of the better herbs for adrenal fatigue.
If you try it, start slow ... and pay close attention to your symptoms.
If you are
Female
, please answer .... 3 quick
Questions
about
Your Symptoms
If you are
Female
, please answer .... 3 quick
Questions
about
Your Symptoms
More Articles