You are here>> Home >> Understanding AF >> Adrenal Fatigue Symptoms
>>
Adrenal Fatigue and Urination
Adrenal Fatigue and Urination
Do fluids seem to pass straight through you?
This is a very common adrenal fatigue symptom. Everyone stuck in a state of stress experiences urinary urgency / frequent urination.
There are several reasons for it, and they all have to do with hormones produced by the adrenal glands.
The following adrenal hormones all have an impact on fluid retention:
Epinephrine (adrenaline)
Cortisol
Aldosterone
Short Term Stress and Urination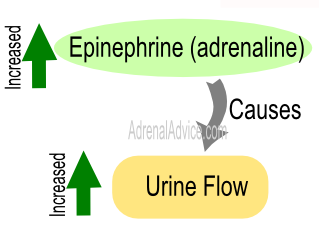 One study looked at 13 healthy men. They were injected with epinephrine.
epinephrine also produced a transient increase in urine flow 3
So....if you experience short term stress, your adrenaline (epinephrine) will increase, which will increase the rate of urine flow.
Chronic Stress and Urination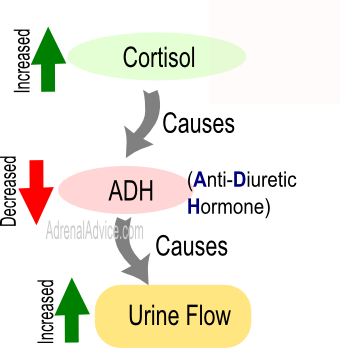 Depending on what stage of adrenal fatigue you are in, you will likely have high cortisol. This can also cause increased urination.
As cortisol levels increases, ADH (anti diuretic hormone)decreases. As ADH levels decrease, urine flow will increase.
Cortisol has a negative feedback effect on ADH5
So this is another reason for the frequent urination you may be experiencing with adrenal fatigue.